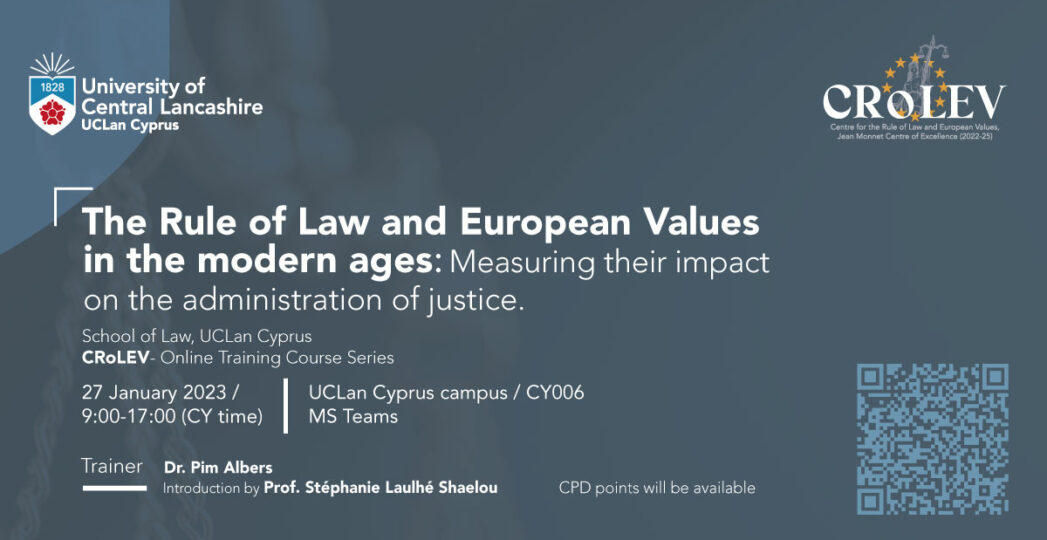 The School of Law of UCLan Cyprus is pleased to announce the training course on "The Rule of Law and European Values in the modern ages: Measuring their impact on the Administration of Justice" in the CRoLEV Online Training Course Series. This 6-hour blended delivery training course looks at the good functioning of a system of administration of justice, composed of law enforcement agencies, prosecution, courts, and penitentiary agencies, all of vital importance for enhancing or strengthening the Rule of Law in European countries. UCLan Cyprus, through its Law School, is an accredited provider of Continuing Professional Development (CPD) pro[1]grammes under the relevant Cyprus Bar Association scheme. This Training is designed for the continuous professional development (CPD) of young and other professionals in Cyprus and internationally. CPD points will be available.
Date: 27 January 2023
Time: 9:00-17:00 (CY time)
Venue: UCLan Cyprus Campus/ CY006 and MS Teams
Course description
The course will cover general theories of the rule of law, followed by an international overview of modern Rule of Law approaches developed by international and European organisations. After the introduction, the theme of measurement of rule of law will be presented. The course focuses on instruments and how to measure the level of rule of law based on surveys, perceptions and tools for rating and ranking countries using objective information and indicators. An overview of the work of the Council of Europe in the field of the rule of law and administration of justice will follow. Since rule of law principles are related to (European) values and European Union policies, the course will continue with a presentation of the EU Rule of Law framework, European values, and the linkage with the provision of financial support to EU member states. The last part of the course will be dedicated to the administration justice and the rule of law by focusing on efficiency and quality of justice.
For more information and to register click here
Subscribe to our newsletter