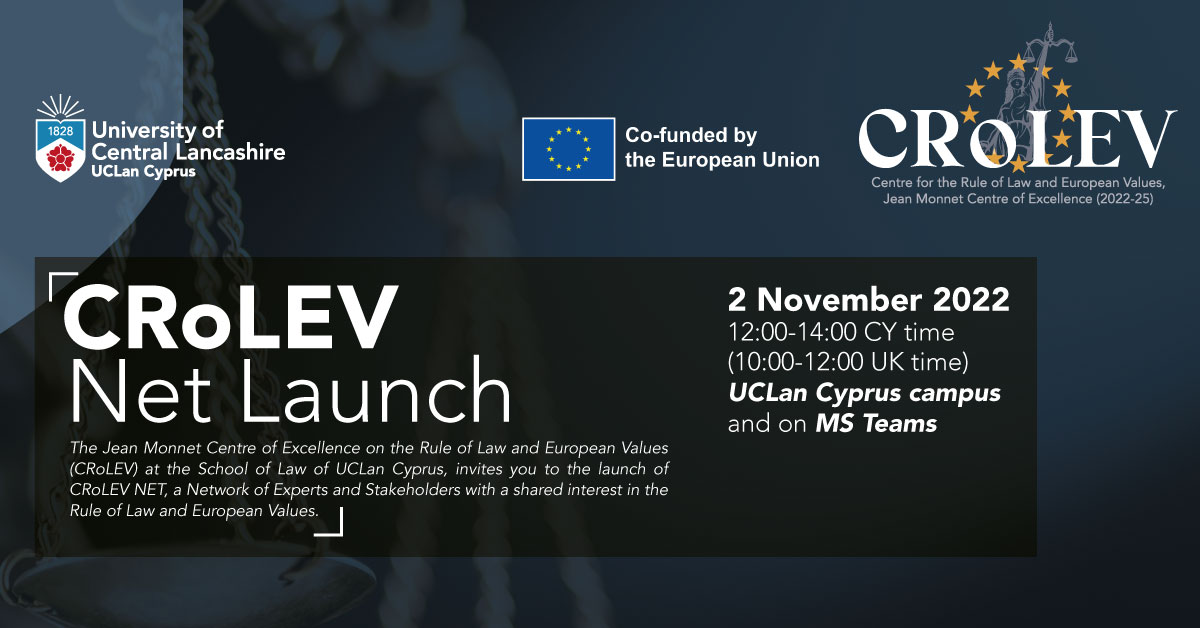 CRoLEV NET LAUNCH
2 November 2022, 12:00-14:00 CY time (10:00-12:00 UK time)
UCLan Cyprus campus and on MS Teams
 The Jean Monnet Centre of Excellence on the Rule of Law and European Values (CRoLEV) at the School of Law of the University of Central Lancashire in Cyprus (UCLan Cyprus), invites you to the launch of CRoLEV NET, a Network of Experts and Stakeholders with a shared interest in the Rule of Law and European Values. 
This launch event will be of value and interest to multiple actors including students, academics, researchers, policy-makers, the civil society and other stakeholders at the national/international level who will be invited to join CRoLEV NET.
 2 CPD hours
Special guests include 
Dr Aleksandra Gliszczynska-Grabias, Assistant Professor at the Institute of Law Studies, Polish Academy of Sciences.
         'Challenges of the rule of law crisis in Poland in the context of respecting human rights protection standards'
Dr Natalie Alkiviadou, Senior Research Fellow, Justitia, Denmark.
         'Presentation of database on decisions of the European Court of Human Rights on Hate Speech'
 Dr Yulia Razmetaeva, Head of the Center for Law, Ethics and Digital Technologies at Yaroslav Mudryi National Law University (Ukraine) and Visiting researcher at Uppsala University (Sweden), Project Leader of the Jean Monnet Centre of Excellence 'European Fundamental Values in Digital Era'. 
         'AI in the courts: what is wrong with the rule of law?'
Dr. Balázs Fekete, CITIZENS-LAW research team member and Eötvös Loránd University (ELTE, Budapest).
         'The CITIZENS-LAW project: studying the social foundations of Rule of Law'
 The event will conclude with free lunch at 14:00 to enhance networking. 
 REGISTRATION
To register to this free event, please visit the link here.
For more information, send an email to the CRoLEV team at crolev@uclancyprus.ac.cy or visit https://crolev.eu/   
CERTIFICATION OF ATTENDANCE AND CPD
UCLan Cyprus, through its School of Law, is an accredited provider of CPD programmes under the relevant Cyprus Bar Association scheme. At the end of the event, the participation of lawyers practising in Cyprus will be certified in accordance with the CPD requirements of the Cyprus Bar Association. For the participation of any lawyer to be certified in this way, he or she must attend the whole event. Within a few working days of the event, other participants will receive, by email, an electronic Certificate of Participation.    Subject to the relevant CPD regulatory rules applicable to them, members of the legal profession internationally may benefit from attending the event.
NOTICE
The event will be recorded and disseminated publicly subject to the Policies of UCLan Cyprus and CRoLEV, including its Privacy and GDPR Policy accessible here https://www.uclancyprus.ac.cy/data-protection-policy/ and https://crolev.eu/privacy-policy/
Consent from participants will be sought. Recordings and any related materials will be published on the CRoLEV's website which is hosted at https://crolev.eu/
At the event, each speaker and other participant will take part for educational purposes in an educational setting. Accordingly, what each participant will provide verbally, electronically or otherwise must not be accepted or interpreted as either legal advice or any other form of advice.
Subscribe to our newsletter