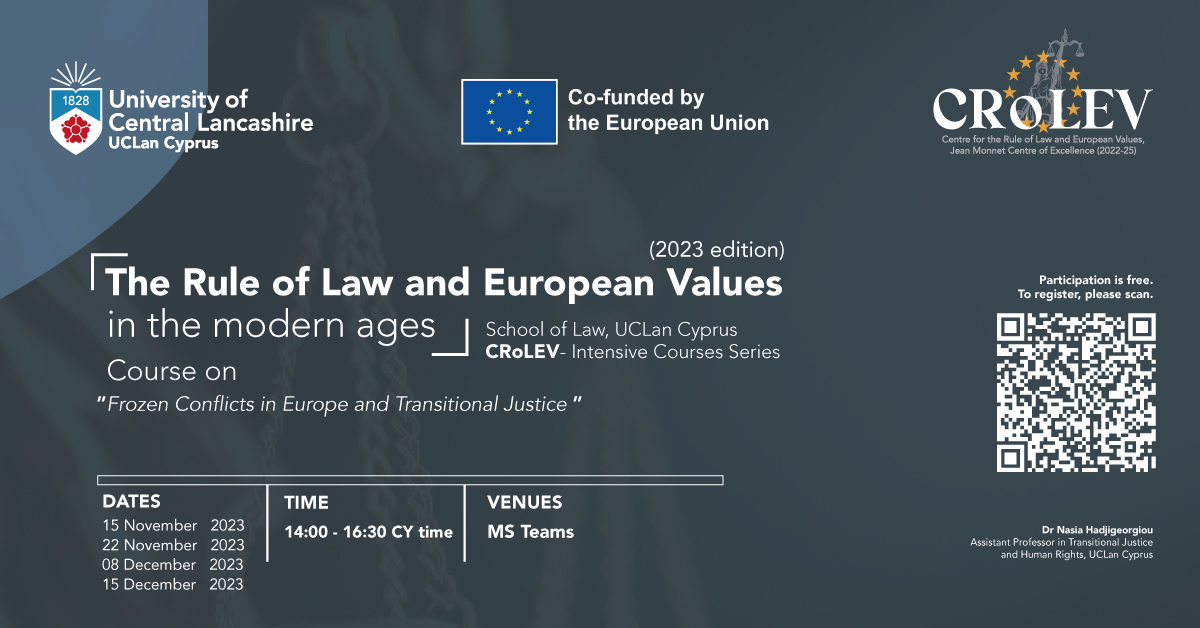 The Rule of Law and European Values
in the modern ages
Course on
"
Frozen Conflicts in Europe and Transitional Justice
The School of Law of UCLan Cyprus is pleased to announce the online intensive course on "Frozen Conflicts in Europe and Transitional Justice" in the CRoLEV Intensive Course Series entitled "The Rule of Law and European Values in the modern ages".

This 10-hour synchronous online course looks at frozen conflict settings and examines how best to achieve transitional justice in these unique settings. In order to achieve this aim, it seeks to familiarise participants with key concepts regularly being used in the literature and then introduces a series of transitional justice mechanisms that have been implemented in frozen conflict contexts. Thus, the course aims to inform participants about best practices, by critically examining strategies that have been adopted in a range of different settings.
The course will cover the following themes:
• Webinar 1: Establishing the basics: frozen conflicts, transitional justice and other key terms (parent/rump state, de facto state, patron state); the approach of the international community to these conflicts.
• Webinar 2: Human rights violations that arise as a result of de facto divisions in frozen conflict societies: The different de jure and de facto jurisdictions in the island of Cyprus (Republic of Cyprus, 'Turkish Republic of Northern Cyprus', the buffer zone, the Sovereign Base Areas) and the impact of the island's fragmentation on the protection of human rights.
• Webinar 3: Transitional justice mechanisms in Cyprus: Immovable Property Commission, the Custodian, the Committee on Missing Persons, and the bicommunal Technical Committees.
• Webinar 4: The human rights and rule of law implications of the transitional justice mechanisms in Cyprus: A discussion with Mr. Achilleas Demetriades, Advocate
DATES
15 November 2023, 14:00-16:30 EET
22 November 2023, 14:00-16:30 EET
8 December 2023, 14:00-16:30 EET
15 December 2023, 14:00-16:30 EET
Online via MS TEAMS
To register, click here
Module Tutors
Dr Nasia Hadjigeorgiou, Assistant Professor in Transitional Justice and Human Rights, UCLan Cyprus
View the poster of the course here: Frozen Conflicts in Europe and Transitional Justice
Subscribe to our newsletter