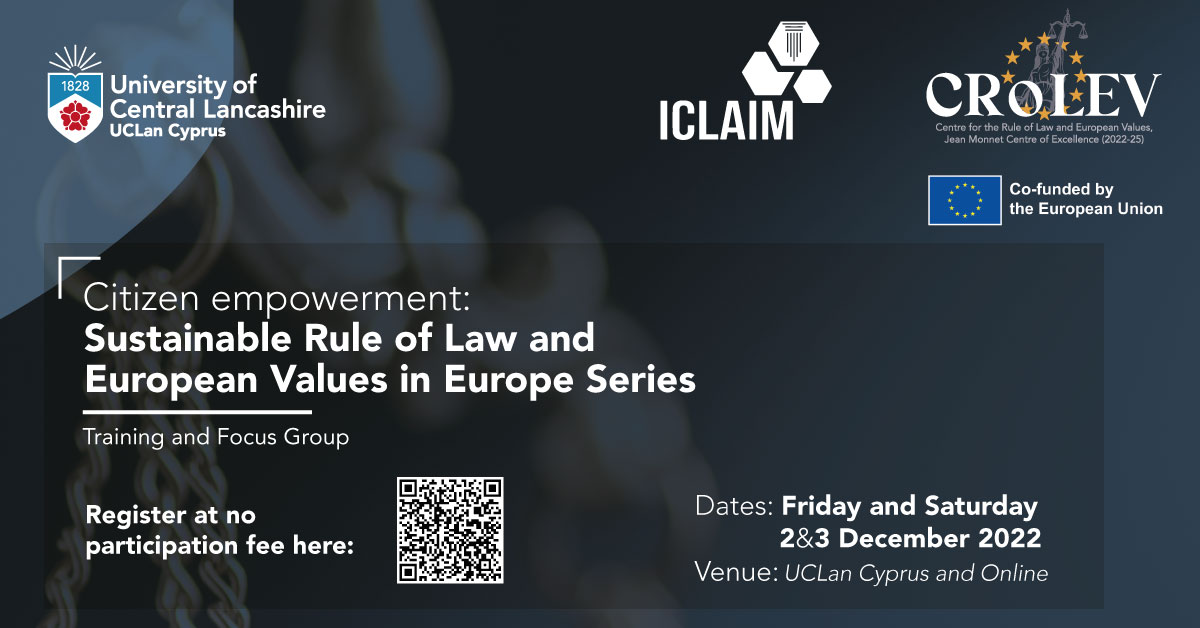 Call for participants
The School of Law of UCLan Cyprus organises a new workshop under Jean Monnet Centre of Excellence for the Rule of Law and European Values (CRoLEV), with the support of the Interdisciplinary Centre for Law, Alternative and Innovative Methods (ICLAIM). The workshop brings together our expertise on the Rule of Law and European Values and the practical skills obtained through the successful Social Mediation project! This innovative workshop is part of a three-year workshop series undertaken by both institutions, scheduled to take place in December 2022, 2023, and 2024. Each year the workshop will be enriched with research findings from the previous year and feedback received from participants.
The Rule of Law principle, in simple words the idea that no one should be above the Law including the public authorities in a Democratic society, is a fundamental value protected and promoted by the European Union. Its practical application, however, can be particularly challenging in certain contexts and worrying trends contrary to the application of the Rule of Law have emerged in recent years.
The workshop aims to address Civil Society Organisations, professionals and other members of the general public who are interested in receiving knowledge and training which combine theoretical aspects of Rule of Law and the practical application and significance of Social Mediation as a conflict resolution tool. Participants will have the chance to participate in all three editions of the workshop during the forthcoming years, and update their knowledge and skills as the CRoLEV project progresses.
All details of the workshop are available on the poster below.
Delivery will be in a hybrid format. Registration is compulsory through the following link.
Depending on the professional background of each participant, the event may form part of their professional development (PD) or continuous professional development (CPD) with 8 CPD units.
CRoLEV is a Jean Monnet Centre of Excellence co-funded by the European Union under the Erasmus+ programme 2021-27; Jean Monnet Actions for the years 2022-2025. It focuses on the study of the rule of law, EU values. and principles in turbulent times. It seeks to strengthen European studies in the region and disseminate research on the rule of law and European values in neighbouring countries, building bridges between the EU and its neighbours.
Views and opinions expressed are however those of the author(s) only and do not necessarily reflect those of the European Union or the European Commission. Neither the European Union nor the granting authority can be held responsible for them.

The event will be recorded and disseminated publicly subject to the Policies of UCLan Cyprus and CRoLEV, including its Privacy and GDPR Policy accessible here https://www.uclancyprus.ac.cy/data-protection-policy/ and https://crolev.eu/privacy-policy/  
Subscribe to our newsletter