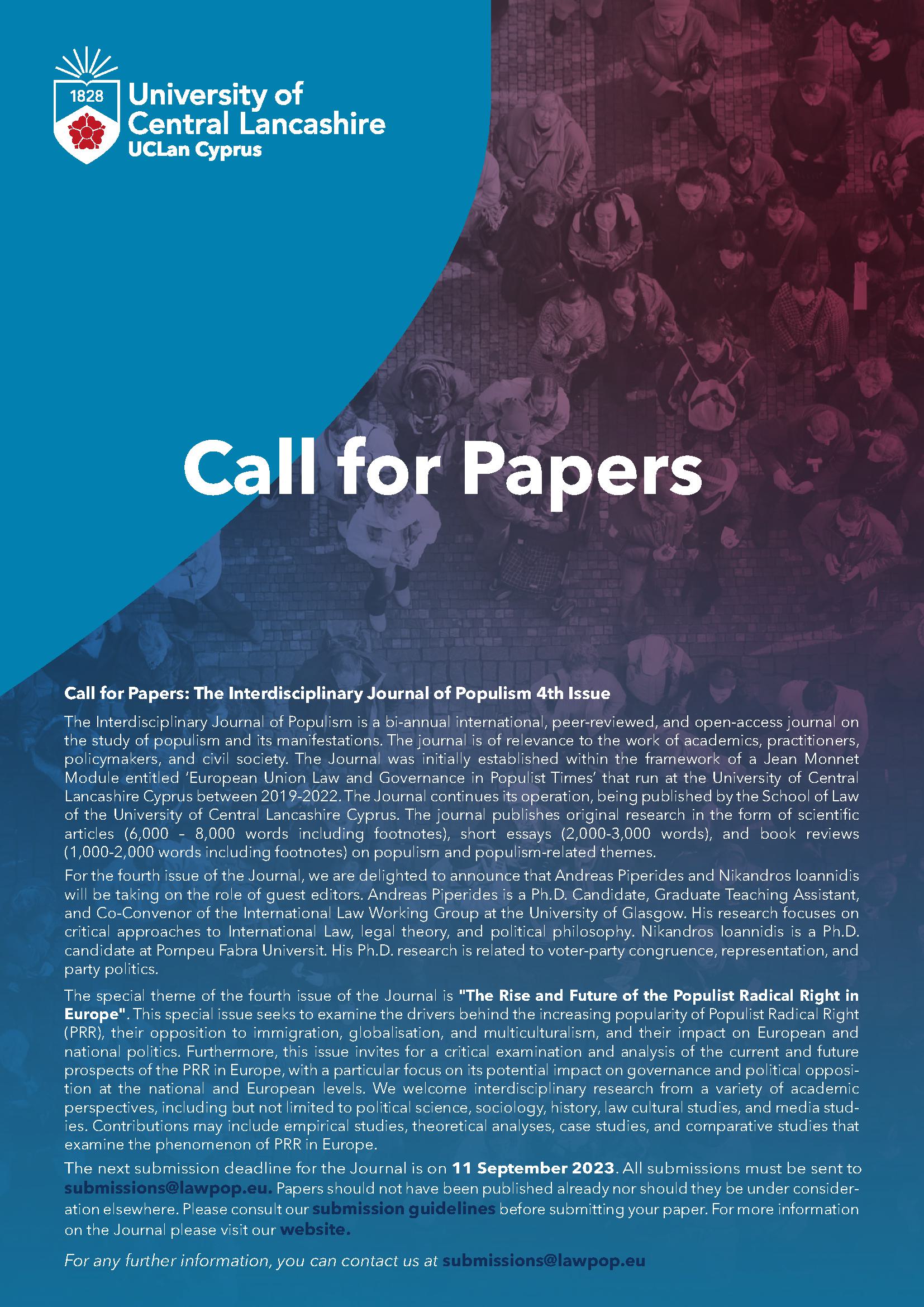 Call for Papers for the 4th Issue of the Interdisciplinary Journal of Populism
We are delighted to announce that Andreas Piperides and Nikandros Ioannidis will be taking on the role of guest editors. Andreas Piperides is a Ph.D. Candidate, Graduate Teaching Assistant, and Co-Convenor of the International Law Working Group at the University of Glasgow. His research focuses on critical approaches to International Law, legal theory, and political philosophy. Nikandros Ioannidis is a Ph.D. candidate at Pompeu Fabra Universit. His Ph.D. research is related to voter-party congruence, representation, and party politics.
The special theme of the fourth issue of the Journal is "The Rise and Future of the Populist Radical Right in Europe". This special issue seeks to examine the drivers behind the increasing popularity of Populist Radical Right (PRR), their opposition to immigration, globalisation, and multiculturalism, and their impact on European and national politics. Furthermore, this issue invites for a critical examination and analysis of the current and future prospects of the PRR in Europe, with a particular focus on its potential impact on governance and political opposition at the national and European levels. We welcome interdisciplinary research from a variety of academic perspectives, including but not limited to political science, sociology, history, law cultural studies, and media studies. Contributions may include empirical studies, theoretical analyses, case studies, and comparative studies that examine the phenomenon of PRR in Europe.
The next submission deadline for the Journal is on 11 September 2023. All submissions must be sent to submissions@lawpop.eu. Papers should not have been published already nor should they be under consideration elsewhere. Please consult our submission guidelines before submitting your paper. For more information on the Journal please visit its website.
For further information see below
Subscribe to our newsletter